The Merchant Navy is the name given to the international commercial shipping industry. It is made up of several shipping companies who recruit civilians as their seafarers. 
Companies vary greatly in the size of ship, types of ship and areas of the world where they operate. Types of modern merchant ship include container ships, cruise liners, oil or gas tankers, chemical carriers, bulk carriers, cable layers, ro-ro ferries, car carriers, oil rig supply vessels and general-purpose cargo ships.  Their trade routes may take them to every continent and across every ocean on the globe. 
There are three main operational departments on board ship: the deck department, which is staffed by navigating officers; the engineering department, which is staffed by marine engineering officers, and may also include marine electro-technical officers; and the hotel or catering department, which provides the crew and any passengers with catering and domestic services. 
The British merchant fleet operates worldwide and includes: 
some of the most prestigious cruise companies in the world, 
container ships carrying a variety of cargo, 
high-tech ferries carrying millions of passengers each year, 
high-quality oil, gas and chemical tankers of all sizes, 
modern bulk carriers carrying ores, grain and coal, 
Royal Fleet Auxiliary ships supporting the Royal Navy; and 
specialised vessels, including support for the offshore oil and gas industry. 
Ninety five per cent of world trade goods are transported by sea and, at a time when many industries are on the decline, the demands on shipping are increasing year on year. The port of Southampton alone handles 900,000 vehicles and 1.9 million cargo containers annually, while tow million cruise passengers sail each year from Southampton on their holidays.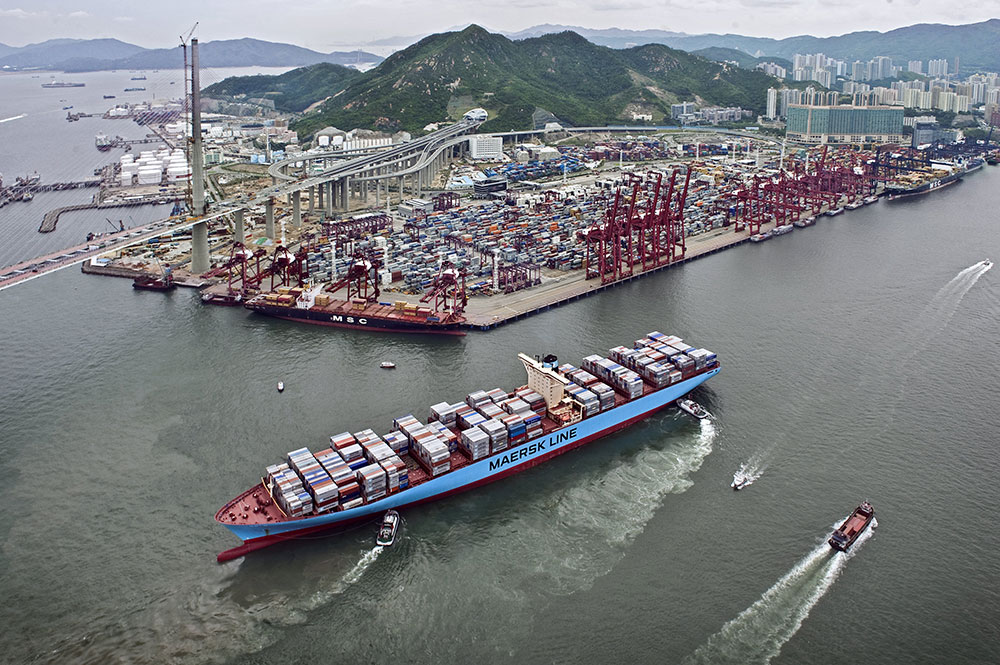 At the same time, a growing shortage of certificated officers and crew members means this is an excellent time to be joining the shipping industry, with very real prospects for early promotion to senior ranks. 
When you consider the size of the vessels our officers serve upon, you also begin to realise just how important their role is. The longest container ship in the world is now around 400m long, equivalent to the length of four football pitches, while the largest has a cargo capacity of over 20,000 cargo containers. The world's largest cruise ship is over 360m long and can carry over 6,500 passengers.  
Ships operate 24 hours a day, seven days a week, with crew members rotating on leave after their vessel appointment has been completed. While technical officers and crew often work a system of watches each day, normally in a pattern of four hours on and eight hours off, the working hours of most hotel operations personnel on cruise ships and ferries are dependent on their guests' routines. 
The lifestyle at sea will depend on the type and trading pattern of each ship but there are often great opportunities for global travel. The food and accommodation on board is excellent, with single cabins and en-suite facilities for officers on many vessels. Whatever the ship type, there will also be the opportunity pursue leisure interests, socialise with colleagues on board or study for further professional qualifications. 
Holiday, pay, welfare and benefits vary from company to company but are generally very good. For example, a qualified officer after a voyage lasting four months could get two months' holiday or more. Many UK nationals also benefit enormously from tax-free status, provided they meet the associated requirements. 
A successful ship's officer or crew member requires particular personal qualities in order to cope with the demands of the profession. They will spend several months at a time away from home, living in close proximity with other crew members. The ability to cope with the stresses of separation while exercising tolerance towards others on the ship is therefore essential. 
Young officers and crew members must be able to accept a higher level of responsibility than would be expected at a similar age in most other professions and possess the leadership qualities necessary to direct the work of others, often under difficult circumstances. Self-reliance, self-discipline, initiative and the ability to work as part of a team are also required, as are the commercial awareness and management skills demanded by a competitive modern industry.