You'll be sent further information about what you need to do before you start at Warsash. In the meantime, we've put together some information here that answers some of the most commonly asked questions we get from new phase one cadets before they join us. 
Where you'll study
Cadets study at the University's maritime centre in a dedicated building at the St Mary's campus, located within the grounds of City College, in Southampton city centre. 
If you're absent through sickness, you must inform your course tutor and email the course support team. You must also always inform your sponsoring company. 
Accommodation
Cadets can live in the University's David Moxon and Chantry student residences. Both residences are in Southampton city centre and are a short walk from the St Mary's and the main East Park Terrace campuses.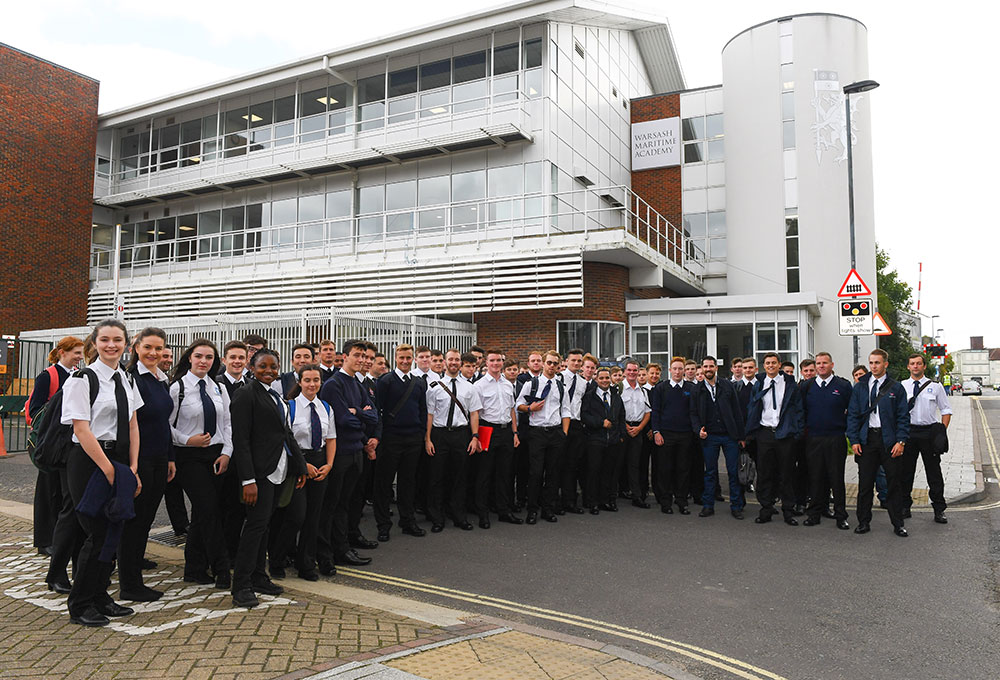 Uniform
All cadets are expected to wear a college uniform. Details (including a list of suppliers) are provided in your joining instructions. The uniform generally consists of a white shirt with cadet epaulettes, black or company tie, black trousers or skirt, and navy-blue NATO-style pullover with cadet epaulettes. Uniform must be worn at all times when you're on campus (between 08.30 and 17.00) - this includes classrooms and social areas. 
Support for you and your studies
During your time at Warsash you'll have access to the Solent's excellent student support network. The Student Hub is in the main concourse of the Andrews building at the University's main East Park Terrace campus. The Student Hub is your first point of contact for queries relating to your studies. Student advisers can also offer support on personal issues, as well as health and wellbeing, and specialist support such as counselling, money advice and chaplaincy. There is also dedicated support for students who may have specific additional learning requirements. 
Solent's 24/7 library is available to all cadets - you'll find it at the main East Park Terrace campus. We have one of the most extensive nautical libraries in the country to help our students with their maritime study programmes.
There's no need to buy any textbooks before you start, unless you've been specifically advised to do so in your joining instructions. You'll be provided with a recommended book list by your tutors early in your course, and the library has several copies of each text book for loan. 
Solent Online Learning
The University's virtual learning environment, Solent Online Learning provides access to online course materials as part of the interactive learning experience at the Solent. Students can participate in forums, create blogs, access course materials and communicate with classmates and tutors. 
New entrant maths study
All cadets are required to sit a maths test during Welcome Week to determine if any extra support is required.
As many students have different abilities and may have studied maths to different levels, it's recommended you revise some of the topics studied at GCSE or on equivalent professional courses. By refreshing and consolidating your basic maths knowledge, including basic algebra, you'll be more likely to be ready to begin your professional and academic courses. 
There are a number of online resources available, including the University's own Solent Online Learning (student log-in required) to help you. Check also to see if your sponsoring company provides access to the Marine Society's Learn@Sea platform.
Sport facilities
Solent University has recently opened the new Solent Sports Complex, next to The Spark at the East Park Terrace campus. The Complex boasts a 90-station gym, fitness studios and sports halls. There's no joining fee and there are great student membership options available, including a one-month pass or pay-as-you-go.
For cadets looking to join a team, Team Solent has over thirty teams covering sports from football, rugby, rowing, hockey, boxing, and many more. Many of these teams compete in the British Universities and Colleges Sport (BUCS) leagues. Some teams also compete in local and national leagues. 
Careers advice and support
Warsash cadets are entitled to impartial careers support from Solent Futures. The team can help you explore opportunities in the maritime sector, as well as investigating other career options. 
While you're studying they can check your CV or offer one-to-one guidance, including mock interviews. Look out for Solent Futures' employer events, which take place throughout the year.  
Some of Solent Futures' programmes and events are also available to you after you finish your cadetship.
Email solent.futures@solent.ac.uk to find out more.
Workshops and daily advice desk
Come to the advice desk in the Solent Futures Centre (RM001) on the East Park Terrace campus if you have any questions about searching for jobs, sharpening up your CV, starting your own business or just need more information about what we do. 
Open every weekday between 11am and 4pm during term time. 
24/7 career information and support from Solent Futures Online
Solent Futures Online is a jobs board and career management system offering advice and information on all aspects of the job search process. Use your Solent email to log in today. 
Sign on to Solent Futures Online to: 
Upload your CV to CV360 for instant feedback 
Use the interview simulator to browse common questions and take a mock interview 
Apply for and find 100s of opportunities  
Access up-to-date industry information about the sector you want to work in 
Take self-assessments for career development
Access easy to use content which is tailored to you. 
Careers guidance appointments
These one-to-one sessions are appropriate for students who have more in-depth queries. You can ask careers advisers about many things, including areas such as postgraduate study, researching career ideas and decision-making. You can also book a mock interview with a careers adviser, tailored to a job description, and gain instant feedback.
Your appointment will last approximately 45 minutes and will be with one of Solent University's qualified careers guidance practitioners. 
Book an appointment
Current students: book your appointments online
Prospective students and Solent graduates: please email careers@solent.ac.uk
Commitment to employability
Solent University is committed to enhancing the employability of our students. 
Solent Futures' activities are about empowering students and graduates. We do this by:   
Providing you with access to impartial careers information, advice and guidance. 
Enabling you to develop career management skills to build a successful future. 
Supporting you to set up your own business and develop your enterprising and creative potential.
Giving you access to and promoting the wide range of opportunities in employment, placements, volunteering, mentoring and further study. 
Our statement of service is currently being updated. Please contact solent.futures@solent.ac.uk if you require further information about our offer to students and graduates. 

Warsash has been training seafarers since the 1940s
Proudly part of Solent University